Global Bright Bars >
About GBB
Global Bright Bars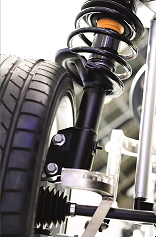 Global Bright Bars is a new division of Global Special Steels Products, exclusively focused on producing high quality bright bars for the automotive industry.
Global Special Steels Products is a 100% subsidiary of Global Steel Wire and incorporates four companies producers of steel wire for the automotive industry, mechanical engineering, infrastructures, ...
Global Steel Wire is one of the pillars of CELSA Group™, one of the leading steel producers in Europe. It is engaged in manufacturing wire rod in an extensive range of steels and dimensions, which have been progressively expanded towards higher technology services.
We are present in all wire rod based manufacturing sectors.
Following our main objective of satisfying our customers, we have continously invested in keeping our facilities and processes in line with the latest technological developments.
Likewise, our Total Quality Management (TQM) system allows us to focus our entire organisation towards delivering the quality and service required by our customers.